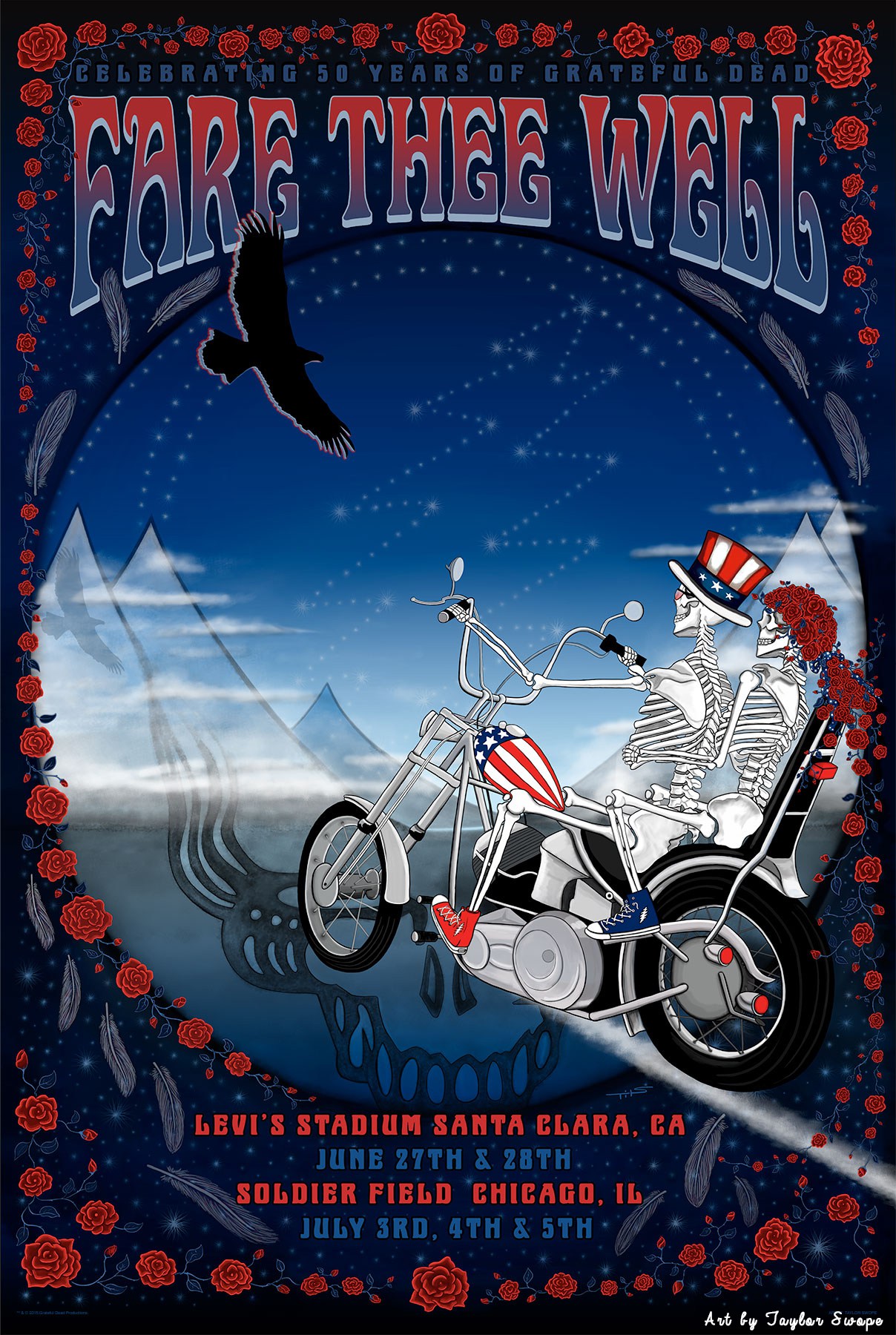 As an artist and designer of one of the official Fare Thee Well posters, Little Hippie's Chief Executive Artist Taylor Swope is among the lucky few who will be attending all of the final Grateful Dead performances – last weekend in Santa Clara, California, and this weekend in Chicago.
Taylor's official Fare Thee Well posters, previewed above, will be for sale at the merchandise stores inside Soldier Field as they were at Levi's Stadium, along with a children's t and a women's tank top she designed.  You can also find her work in the showbills for each performance.
Taylor was the only female artist whose work was included in the entire line of official merchandise for the Fare Thee Well shows.
5000 lithographic prints of Taylor's Fare Thee Well poster were printed by Global Merchandising.  Taylor will later receive a small drop of artist proofs, but most of those prints have already been claimed.
One copy of the poster signed by all the members of the band has been included in the silent auction hosted by Headcount with the proceeds going to Rex Foundation and 16 other charities, including Seva Foundation and Conscious Alliance.  The current high bid is $15,000 and is held by San Francisco Giants pitcher Jake Peavy. Bidding will continue through night three of the shows in Chicago.
The concept for Taylor's Fare Thee Well poster was born in 2004, when Taylor was invited to attend the premier of the re-mastered Grateful Dead Movie at the Fillmore in San Francisco. The opening animation features the well-loved character of Uncle Sam on a chopper motorcycle, who has come to be known as Psycle Sam, and whose original animation was done by Gary Gutierrez.
When Taylor saw Sam riding through the hilly road of tapping feet in that dark theater, she knew she needed to draw him, and Grateful Dead Productions was kind enough to track down some of the original film cells for her to work from.  That design led to her thinking, 'how cool would it be to put Bertha on the back of his bike, and show them from behind going down the road together?!'  It took Taylor a lot of hard work and practice to develop the skills needed to draw her idea, and now, eleven years later, Taylor is excited to unveil the image. Now that's turning it up to eleven!
Taylor was featured in the Wall Street Journal as part of their coverage of the Grateful Dead Fare Thee Well limited edition posters.
For the grand "Fare Thee Well" finale in Chicago, the band commissioned nine different posters and two triptychs (consisting of a three inter-connected posters). Most have been printed in limited editions of—wait for it—2015, and will be sold for up to $70 each.
…
New York artist Taylor Swope first got the idea for her poster—featuring the Uncle Sam skeleton giving a female skeleton a ride on a Harley—11 years ago, after watching a remastered version of "The Grateful Dead Movie," which included an animated version of Cycle Sam.
"But I was a beginner artist at the time," Swope recalls. "I didn't know how to draw skeletons or roses." Her design skills bloomed along with her apparel company, Little Hippie, which specializes in licensed Dead gear for kids.
She has two pieces of official apparel at the "Fare Thee Well" concerts, a children's T-shirt and a women's tank top. After her poster idea also got approved, she had to crank it out on deadline. By then she had learned a lot by sketching from books of flowers and an anatomical skeleton she had purchased. "The kicker is then I had to learn how to draw a motorcycle," she says.